The real estate industry has remained remarkably resilient amid the pandemic. As it turns out, buying or selling a home remotely is more than possible thanks to the digital space.
Virtual tours, which have long been used in real estate marketing even before the pandemic struck, are now the norm. Virtual tours are pre-recorded digital media content that can come in the form of a simple slide show, a video recording, or a sophisticated 3-D tour. For sellers, this tool has proven to be incredibly valuable: so long as it's uploaded and live, a virtual tour can be watched by anyone, anytime, and anywhere.
It looks like virtual tours are not going away anytime soon. In its 2020 market recovery survey of over 95,000 realtors, the National Association of Realtors (NAR) found that 66% of respondents expect an increase in the use of virtual tours and video technology-assisted open houses.
Here are a couple of reasons why both homebuyers and sellers are drawn to this approach:
Health and safety – At the end of the day, it's the lives of the people in this industry (buyers, sellers, realtors, builders, and others) that matter. Virtual showings, along with COVID-19 health protocols, greatly reduce the risk of transmitting the virus during a real estate transaction.
Convenience – Virtual tours can save you a lot of time and resources. It can take mere seconds to open a laptop or smartphone and watch a video tour of a home for sale. There's no need to make time and drive to the property (or in some cases, fly there) to pay it a visit. For sellers, pre-recorded video walkthroughs allow them to sift through serious buyers and those who are only looking around.
Potentially higher reach – With virtual showings, home sellers can reach more buyers. A video recording of the tour can be attached to the home's online listing. It can also be uploaded and shared on several social media platforms. In a single day, home sellers can potentially reach over a hundred interested buyers. Plus, virtual tours can make it easier for sellers to accommodate interested buyers from out of state.
Thanks to the ramped-up vaccination program, it will probably be safer to buy and sell homes by the end of the year. But with the technology that's literally at the palm of our hands, the ease and efficiency of virtual tours are hard to pass up.
Well-executed virtual tours elevate the look and feel of your Cape Coral, Florida home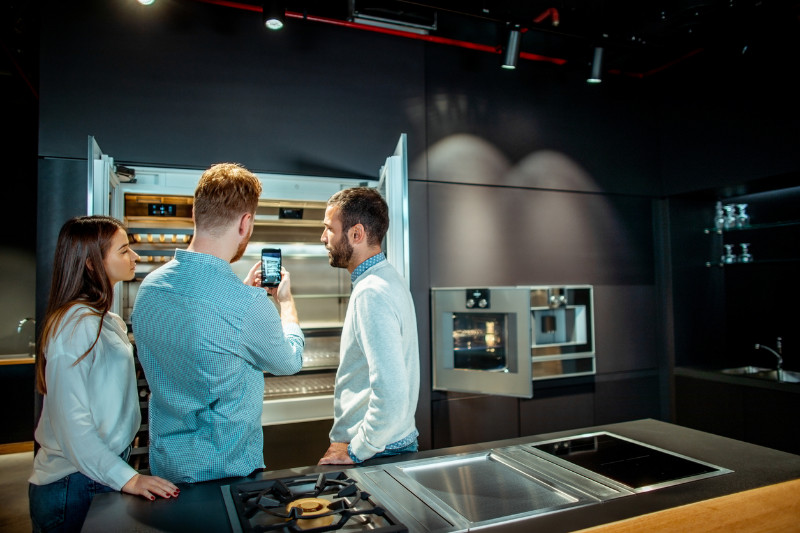 Nowadays, a virtual tour is a must-have in any digitally savvy home seller's arsenal. It can make potential buyers fall in love with your home. When done extremely well, it can even make buyers decide to buy the property sight-unseen — difficult to pull off, but not impossible!
Here are key tips and strategies that will help you make that leap towards a sale.
Aim for spotless
Since prospective buyers aren't seeing your house in person, it's all the more important to present a clean, spotless property. Every room and surface should sparkle. So, bring out the broom, mop, cleaning brush, and microfiber cloth. And if you need help, call the professionals for a deep clean.
Your entire house, inside and outside, need to be cleared of dirt, dust, and grime, but pay special attention to these areas:
Kitchen countertops – Clear out food crumbs, scratches, and dirt marks. Don't forget to do a final sweep on white countertops. Here's a life hack: pour a small amount of cooking oil on a microfiber cloth and wipe the countertops. Doing so will make the surfaces glossy and stain-resistant. Additionally, make sure the countertops have been resealed before listing the house on the market.
Stainless steel materials – Despite being made of "stainless" steel, appliances with this material still need to be regularly cleaned. While they do a good job of staving off the permanent discoloration and other blemishes, stainless steel materials will normally accumulate dirt, grease, fingerprints, and watermarks. Have these cleaning implements at the ready: dish detergent, baking soda, vinegar, and warm water.
Windows, mirrors, and other glass surfaces – While you can't go wrong with glass cleaning brands like Windex, you can use vinegar and water to create your own cleaning mix. Wipe glass surfaces gently using a microfiber cloth to remove stains and fingerprints. No buyer wants to see those up close in a virtual tour.

Declutter the space
When decorating the property, be intentional with the placement of decor and furniture. Under the gaze of the camera lens, an excess of one or two items can make your shot look busy and cluttered.
Anything that doesn't serve a specific purpose should be stowed away. The coffee maker that came as a gift for the holidays, the piles of books that are scattered throughout the living room — these things shouldn't make the cut in a virtual tour.
Here are some decluttering tips to help you get started:
If the living room has a number of seating options, take a step back and remove most of them. Keep the ones that best complement the room and the overall theme you're going for.
The kitchen doesn't need to showcase all the expensive cutlery and china you've collected through the years. Remove most of them from the cabinets to show buyers the amount of space the kitchen has to offer.
Personal memorabilia and family photos should also be removed. As a home seller, you're preparing your house so buyers can see what their future home could look like. Keep personal belongings and other items in the frame and buyers will see somebody else's home.

Create harmony with lighting
In a typical open house back in the pre-pandemic days, lighting mishaps rarely cost sellers a successful sale. But now, with more buyers preferring to view homes remotely, you need to be extra careful. The camera, as opposed to the human eye, can be less forgiving when it comes to lighting.
The color (measured in Kelvin) and brightness (measured more accurately in lumens rather than wattage) of lighting fixtures throughout the home should be in sync with each other. The higher you go up on the Kelvin scale, the cooler the color. Similarly, a higher lumens rating means a brighter light is produced.
Here are some tips that will help you light your property's key rooms for a virtual tour:
Living rooms generally need lighting of about 1,500 to 3,000 lumens. This level of brightness allows you to read a book and watch TV without straining your eyes.
Bedroom lighting is usually 2,000 to 4,000 lumens. Integrate warmer lighting and dimmers to show buyers the variety of moods they can play with.
Lighting for home offices falls within the 3,000 to 6,000 lumens range. Installing recessed lighting and aiming them at the walls can make the space look brighter and larger.
Bathroom lighting falls somewhere between 4,000 to 8,000 lumens. This is a room that can look a bit dark or gloomy in recorded videos if proper lighting isn't used even when using a high-quality camera.
Kitchen lighting goes way up within the 5,000 to 10,000 lumens range. This is because the area accommodates a variety of activities that require sufficient illumination, from food prep and cooking to small gatherings and even work. Light up large kitchen islands with pendant lighting.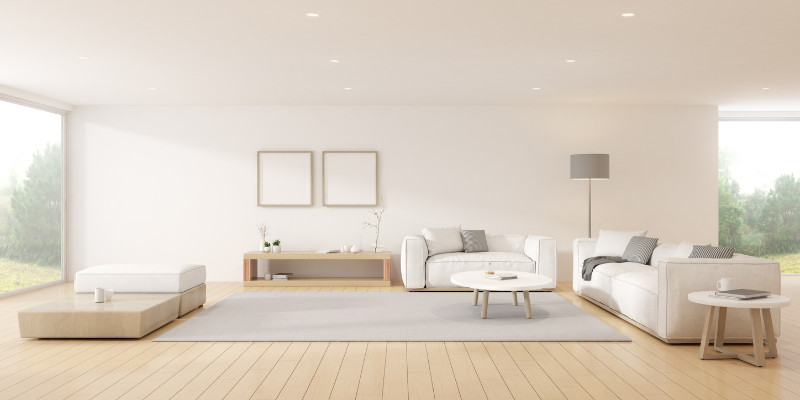 Map out the path of the virtual tour
To save time and money, it's essential to map out the flow of the virtual tour. Aside from the benefit of recording everything in two, three, or fewer takes (a one-shot run is even more impressive), the virtual tour will have a better and seamless transition, visually and narratively. This will help keep prospective buyers engaged.
To that end, take out a pen and a piece of blank paper. Outline the path you or your crew will take for the virtual tour. Make sure this path is clear so your listing agent can move about without impediments. Afterward, do a walkthrough before filming. This will allow you to make the necessary adjustments.
For instance, the gap between coffee tables and couches should be nearly 20 inches for maximum legroom. The distance between the wall and an area rug should be at least over 12 inches, depending on the space you're working with. With more space in between different types of furnishings, there's less likelihood of tripping and falling over while shooting the video tour.
Make improvements
Home improvements, when done throughout the course of your ownership, can earn you a generous return on your investment. Whether it's a new garage door, a façade with a beautiful stone veneer, or a refurbished or converted basement, these features can serve as the wow factor that gets a prospective buyer to make an offer for your home in Cape Coral, FL.
The pandemic has also caused people to make significant changes to their lifestyles. For instance, COVID-19 has fueled a demand for bigger homes and certain amenities such as home offices and cozy outdoor living spaces. If you're looking to make major upgrades to your home to increase its resale price, consider what buyers want now.
However, if you don't have the time and resources to undertake a massive home improvement project, there's no need to fret. Minor improvements like the ones below can go a long way:
Repaint! – Give your home a new look by painting it a fresh color. If you're pressed for time, focus on areas where the paint is fading or flaking. For cool and eye-catching accents, explore the idea of repainting the front door in a bold color (e.g. powder blue, butter yellow) against a more subdued or neutral wall color.
Introduce dividers and partitions – Open-floor layouts are on their way out. Create more private spaces for work, play, or rest by setting up partitions and dividers within the property. The strategic use of different types of plants, furniture, and panel room dividers can turn an otherwise open floor plan into a well-divided space.
Update doors and fixtures – Replace worn and outdated hardware, such as knobs, pull handles, faucets, and other fixtures around the house. If you want a noticeable change, go for hardware that's remarkably different from the old ones. Just make sure they fit with the home's overall aesthetic.

Seek out professional photography and home staging services
Smartphones nowadays are often better equipped than many conventional cameras out there. What're more, accessible digital platforms give us an opportunity to reach our intended audiences with just a few clicks or taps. Yet, putting together a virtual home tour isn't exactly a walk in the park.
There's a lot that goes into creating a virtual tour where each frame or moment is picture-perfect: 360-degree cameras, angles, the timing of the shoot (natural lighting can have a magical effect on rooms), video editing software, and skills in video editing as well as sound mixing.
If you can manage to put together a decent virtual tour on your own, then by all means do so. But when in doubt or you simply want to create an even more spectacular home viewing experience, don't hesitate to seek out professionals to help you.
Ready to show off your Cape Coral, FL home for sale?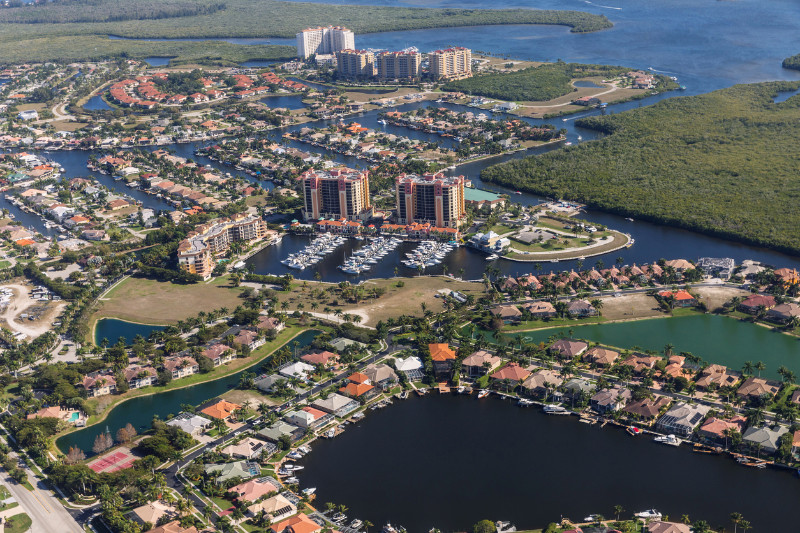 By now, you know what it takes for your property to make a splash in the Cape Coral real estate market: with a dazzling and unforgettable virtual tour.
With its prime location in the highly coveted Southwest Florida area, your home in Cape Coral, FL is sure to attract a range of interested buyers. And a well-executed virtual home tour is sure to get you callers and offers.
If you require assistance in listing and marketing your house in Cape Coral, FL, contact Mike Lombardo.
Mike Lombardo is one of the best real estate agents you'll ever work with within Cape Coral and Southwest Florida. While most agents in the industry often exude empathy or authority, Mike is one of the rare few who combines both to create a truly wonderful home selling experience. This unique hallmark of his service manifests in a number of ways:
Making your home shine on digital media. Mike and his team have a wide range of cutting-edge tools at their disposal to market your home in an increasingly digital world. Your property will benefit from exposure to various real estate websites overseen by a vast partner network. Plus, they'll enlist the services of professional photographers and videographers to help you produce a set of stellar listing photos and a memorable, winning virtual tour.
Pricing your home correctly to get maximum ROI. Mike understands that you want to get the best returns on your investment as much as possible. To achieve that, he will prepare a detailed market report which will be the foundation of your pricing strategy. From there, Mike will help you conceptualize home improvement ideas that will nudge the property closer to your ideal price point.
Evaluate the condition of your property as accurately as possible. Mike has been assisting home sellers since his college days. No matter the size, condition, and features of the property, he has seen it all. As a result, Mike knows what it takes to sell a home for the highest possible price. His professional home review will let you know what upgrades and improvements you need to make to boost your property's value.
Creating a feedback loop to improve listings. Sellers don't often receive feedback from agents who've shown their listings to potential buyers. But Mike and his team actively seek out helpful feedback to improve your property's listing and marketability. This, along with industry trends and benchmarks, help create the best strategy for selling your home.
If you're looking to sell your house in Cape Coral, FL, work with the top real estate agents in the area. Contact the Mike Lombardo Team today. You may get in touch by phone at 239.898.3445 or by email at mike(at)mikelom(dotted)com. You can also fill up this inquiry form.